The Gold Standard in Scalp Micropigmentation Training
Our SMP training course is the most detailed available and ensures that our trainees enter the industry with the confidence and skill set to produce world-class results.
Iccon International offers a thorough, intensive, hands-on Scalp Micropigmentation training course tailored to the trainee's experience
From no experience at all to aesthetic practitioners and tattoo artists looking to further their skills. Our training courses are taught by some of the longest-serving and most highly skilled SMP practitioners in the world.
Request a call from one of our experts to discuss the best options and make a booking
I have just finished training at Iccon International this week and they were fantastic! I feel so confident now and I was a complete beginner just a week ago! I feel I am walking away with tons of knowledge in SMP and ready to crack on with my business! Thank you so much x

I trained with Iccon International as an already experienced SPMU artist and it was great. My trainer was very helpful with technique and sharing the knowledge of the industry. He shared where is best to buy the most efficient supplies and equipment which was so useful. I feel like the Iccon International team is available to me if I have any questions while I am working alone. This after care is priceless as a new practitioner!

very recently trained with Iccon International in their London location. Knowing that they were one of the most reputable companies performing both SMP and training, I travelled from Glasgow to attend. I thoroughly enjoyed the training and now feel confident to perform the treatment on others. We had serious training but also some laughs along the way which was nice. Justin and Matt are great trainers who really know their stuff, They will put you at ease. Looking forward to putting my new skills into practice! Highly recommend!

If you are looking to train in SMP then Iccon International is the one. Justin was very welcoming on the first day and considering the amount of knowledge this guy has he was very humble in training new recruits and did it with such ease considering he had a full class with varied abilities. The theory knowledge was delivered at a comfortable pace and hands on for the last 2 days. He was patient, guided you when needed but never took over to show off or make you feel like a new technician. You pay for what you get and this was 5* training… there hasn't been a 'last day training' as the ongoing support has been amazing. I've met some great people and we all keep in touch. Thanks again Iccon International.

I recently trained with Iccon International on the 4 day course. SMP was totally new to me had never picked up a tattoo machine before. I cannot recommend these guys enough. No stone is left unturned in their training and the patience shown by the trainers is absolutely unbelievable. Nothing was too much trouble. I looked at a couple of different courses and am so glad I picked Iccon International. They are not scared to pass on all of their expert knowledge and tell you all they know. They want you to be able to leave their course confident that you can grow your new business, you can tell how much they want you to do well. Their aftercare is also great. I can't thank you enough Iccon International.

I recently finished my training with Iccon International and can honestly say it was one of my best experiences. Coming from a background with no experience in industry i was nervous however the trainers knowledge on scalp Micropigmentation was second to none and from the first day I felt at ease. I am now able to perform procedures from my own clinic with confidence but also know that when ever I need advice I have that ongoing support from Iccon International. Thank you.

Completed SMP training in April with Iccon International and have come away feeling confident enough to transition in to the world of SMP based on the thorough training provided. The practical and theory aspect of this training course have been well thought out and no minor detail has been left out. The patience and friendliness included has made me feel at ease from day one. The aftercare support has given me the confidence to know I am never alone and continue to have the advice and guidance at the tip of my finger tips.

Have just completed my SMP training with Justin and Matt and have had a great week. They are so knowledgeable, friendly and down to earth, they made the experience great. I have come away feeling really confident to start my SMP journey, even more so with their friendly approach giving us life time advice and support. Would recommend this course to anyone wanting to enter the SMP world.

Travelled from Germany to train with Iccon International in the UK. I do not regret this decision at all. I learnt a great deal. The course was very well structured with lots of hands on experience. The best of all was being able to work many hours on live models. Highly recommend this course to anyone wishing to learn SMP.

Recently completed the scalp micro pigmentation course with Iccon International. Couldn't have chosen a better institute to train with. You get taught not only how to do scalp pigmentation but also how to set up and run a clinic. I have come from never holding an ink gun in my life to knowing how to perform a scalp micropigmentation treatment in 4 days of training and the confidence to do it. Thank you Iccon International.

The course was excellent. I would just like to say a big thank you for the course I have just completed and for the way I was taught and there professionalism. I learned so many different skills and challenges from the course to help me to be successful in the future and maintain a good career. I highly recommend the course and would love to study there again in the future.

Training at Iccon International was a great experience and covered so many topics in great detail. The training and after support has given me full confidence to be successful in my own Scalp Micropigmentation business.

Highly recommend training with Scalp Culture, training and information received was great, had a fun 3 days training with Justin and Mat really happy with with it all and feeling confident to get out there and hands on 😁 Thank you guys!

Just done the April training course at scalp culture brilliant experience from start to finish every aspect of the SMP covered. Amazing teachers with lots of patience. Totally relaxed environment made to feel very welcome.

I completed my 4 day training course with Iccon International in scalp micro pigmentation. Justin was an amazing trainer, extremely knowledgable and explained everything in great detail. I can't wait to start my new business and feel confident that I have been given fantastic training but more importantly I have lots of support after the training has finished. Thank you!
Reasons to start your training with Iccon International
Learn with some of the longest serving SMP practitioners in the world
The only UK SMP academy to offer continued training & support for life in our online training group free of charge
We have trained people from all over the world
Level 4 accredited training recognised by the Government
All live models supplied
Access to the best SMP equipment tried & tested over years
No experience necessary, we teach you everything from start to finish
Live SMP demonstrations during training sessions
Insurance approved training
Relaxed training environment, professional training delivered in a light hearted manner, everyone is made to feel welcome and treated equally
Planning a procedure over sessions
Internationally recognised training course
All subjects covered from clinic set up to performing world class treatments
Practical hands on training including lots of live model work
Daily Q&A sessions to ensure trainees gain a full understanding on topics
Perfectly structured training with clearly defined modules
Experts in natural results and hairlines
The most detailed SMP training course available, none of our trainees have required training elsewhere after training with Iccon International
Training locations in the UK & Thailand
5 Star reviews on Google
Many people re-trained after receiving incorrect training elsewhere
Our training courses are taught by our Master Practitioners, who are some of the highest-skilled experts in the world. Iccon International is one of the longest-serving SMP training academies, entering the industry long before many even knew it existed. We have had the pleasure to train over 200 people from all types of backgrounds. We feel it's important that to teach SMP, trainers must have extensive knowledge and experience behind them as this helps to raise the industry standard as a whole. With many SMP companies offering training after being in the industry for only a short period of time themselves, they simply haven't gained the correct amount of experience to pass on to their trainees. At Iccon International, we have years of experience in Scalp Micropigmentation on our side and have used our skills to treat clients with all types of hair loss issues, including male pattern baldness, severe alopecia, female hair loss, head scarring, and post-hair transplant clients offering them world-class results each and every time. We are proud to boast a 100% feedback rating and are confident to state that negative reviews about us will not be found anywhere on the internet as our standards are those of the highest possible.
Our SMP training course is suitable for practitioners with all levels of experience. Our trainers have extensive experience in teaching trainees from complete beginners with no previous experience whatsoever to aesthetic practitioners and tattoo artists giving them the full set of skills required to produce exceptional results. We teach Scalp Micropigmentation the correct way with a hands-on approach ensuring that all of our trainees complete the course with full confidence to enter the industry. What's more, all Iccon International students receive ongoing support for life in our online SMP training group once qualified to ensure their success in the industry. Iccon International also provides training to SMP practitioners who may not have received the correct training elsewhere. We are seen as the go-to SMP experts for key advice. Many would agree that anything we don't know about SMP, simply isn't worth knowing.
4-Day In-class intensive hands-on SMP training course and access to our online training support group. Includes working on live models. This option is suitable for complete beginners with no previous experience. Learn SMP from start to finish.
2-Day In-class intensive hands-on SMP training course and access to our online SMP training support group. Includes working on live models. This option is suitable for trainees with 6+ months of previous experience in tattooing or permanent makeup.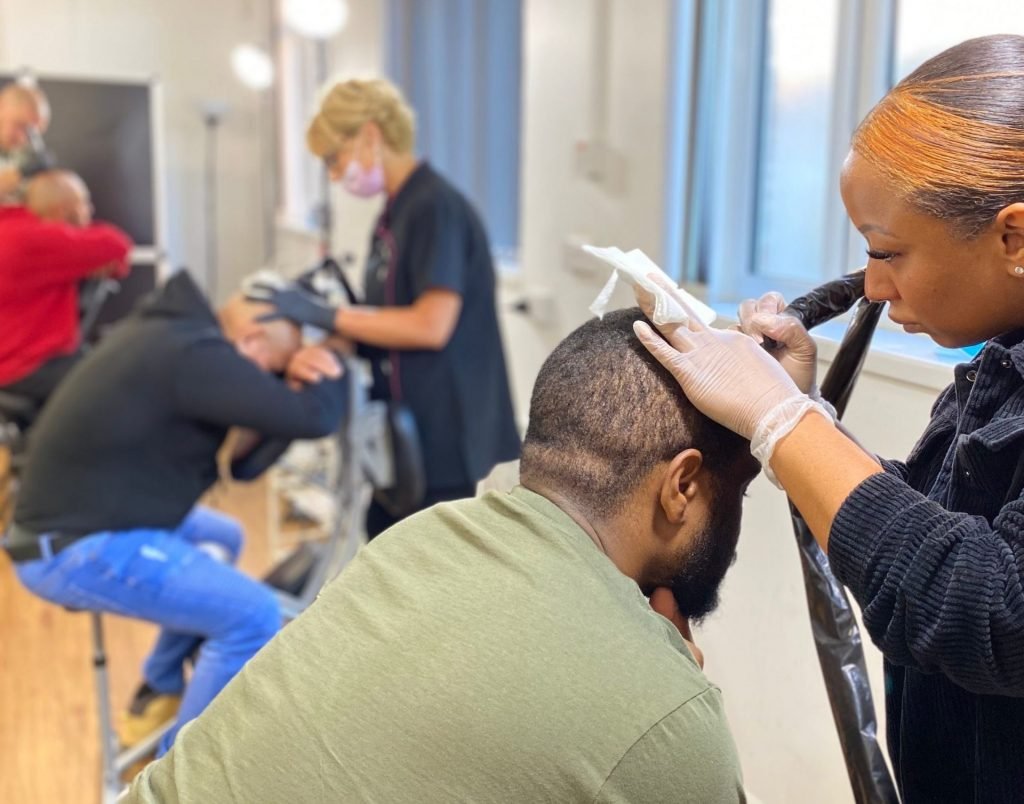 1 Day In-class intensive hands-on SMP training course and access to our online SMP training support group. Includes working on a live model. This option is suitable for SMP practitioners wishing to take their skills to the next level and focuses on key areas such as creating natural hairlines, perfecting techniques, and creating perfect pigment shades. Proof of previous training may be required to join this class.
What if I am unable to get to one of your SMP training centres?
We also offer a comprehensive online SMP training course that you can take in your own time from the comfort of your home.
Request for information about training