What is Scalp Micropigmentation?
Scalp Micropigmentation is the only hair loss solution for men and women that guarantees results.
Scalp Micropigmentation is the only hair loss solution for men & women which guarantees results.
Scalp Micropigmentation (SMP) can also be referred to as an advanced cosmetic hair tattoo. It is a safe, non-invasive treatment that permanently disguises hair loss of any type once and for all. SMP is performed by highly skilled practitioners using specially formulated microneedles, machines, and techniques to deposit pigment into the scalp to replicate the look of hair.
Scalp Micropigmentation offers results from the very first treatment and is performed over multiple treatment sessions to allow the treatment time to settle in. Each treatment session will see an even layering of SMP throughout the treated areas.
SMP is a relatively painless treatment and can be used to treat any type of hair loss, such as male pattern baldness, thinning hair, alopecia, and head scars. SMP is suitable for clients of all ages, male or female.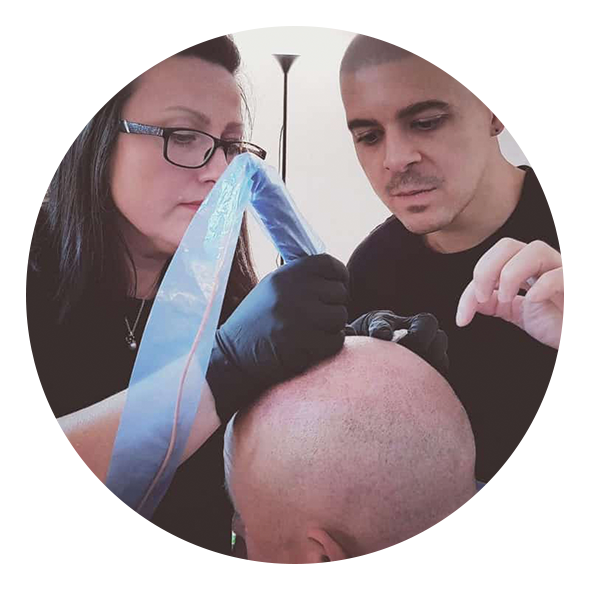 Why choose scalp micropigmentation over other hair loss treatments?
The cosmetic technique called scalp micropigmentation (SMP) restores your client's natural hairline and provides a fuller head of hair. To simulate hair follicles, SMP entails depositing micro impressions of pigment into the scalp. SMP can help your client regain their confidence and improve their appearance regardless of whether they have pattern baldness, alopecia, scars or longer thinning hair which requires more density.
SMP is distinct from conventional tattooing because it uses specialised tools and methods designed for the scalp. In order to achieve a natural-looking result, the SMP pigment is carefully matched to the client's skin tone and hair color, and the depth and angle of the treatment are carefully monitored. Moreover, SMP is a permanent procedure, so your clients can put hair loss behind them once and for all.
SMP is a safe, efficient technique that can be completed in just a few sessions. There is no need for surgery or anesthesia because the treatment is minimally invasive. After each treatment, the client can continue their regular activities, but for a short period, they should refrain from swimming, sweating, being in the sun, or rubbing their scalp in order to prevent infection.
Train in Scalp Micropigmentation
Iccon International offers a range of training courses online and in-person. We offer training for beginners right up to the most advanced level of master trainer. 
Request for information about training